Services
(540) 547-2961 • Fax: (540) 547-4324
Pamper Your Pet
Spa Services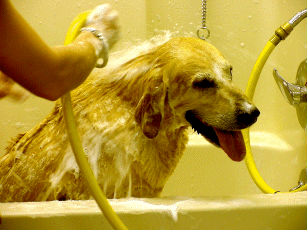 ** Bath : Hydrosurge bathing system using a choice of aromatherapy and other shampoos and conditioners. Price varies by size and condition.
Maintenance Brushing: to keep your pet free of tangles and mats in between baths.
Massage: Good for winding down after a nature walk or group play. Promotes relaxation, reduces stress, and is excellent for preventing strain and injury in canine athletes.
Spa Package: Combines a thirty-minute massage and a hydrosurge bath.
Additional Services
Medicines/Treatments. The Mountain Run Kennel staff includes kennel technicians who are qualified to administer medicines and supplements sent from home as well as basic treatments such as applying compresses, soaks, changing simple dressings, etc.
Special diets and meals are prepared in our kitchen for finicky eaters and pets with specific nutritional requirements.

NDF (Volhard) available on request for an additional fee.

Pickup and delivery. Door-to-door, Monday - Friday. Call or go to the reservations page to schedule service.
Arrangements for pick up or delivery to and from Mountain Run Kennel should be made at time of boarding reservation, or as soon thereafter as possible. Details of actual times will be scheduled the day before and these times must be confirmed. If your pet is being picked up or delivered at another address, you will be responsible for all arrangements.

You will be notified of actual time of arrival the day before the pick up or delivery and you MUST confirm these times with Mountain Run Kennel before 7 AM on the day of service. If we do not have this confirmation, your pet will not be picked up or delivered. Any pets that we are unable to deliver will be charged a regular boarding fee for additional stay.
Note: please provide us with a number where you may be reached on the day before we are to pick up or deliver your pet. Be sure to check your messages if you are unavailable when we call with scheduled times. you may confirm with us by leaving a message at 540-547-2961 anytime before 7 AM the day your pet is to be picked up or delivered.